In order to maintain our level of service, we only take on a limited number of wedding couples each year. If you'd like to begin a discussion about how we can help you create a wedding that is unforgettably fun, please complete the contact form on this page.
If you prefer, we can also be reached directly by email at Adam@MarkeeWeddings.com, by text, or by phone at 224 215 3237.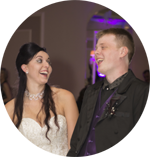 "Adam and Heather went above and beyond our expectations of a DJ's job and made our wedding special and unique to us!"
Sarah & Kurt, The Cotillion, Palatine, IL