Our local wedding industry has so many talented artists and professionals ready to help you have the wedding you have always dreamed of. The Vendor Spotlight was created to introduce them to you, our brides and dear readers.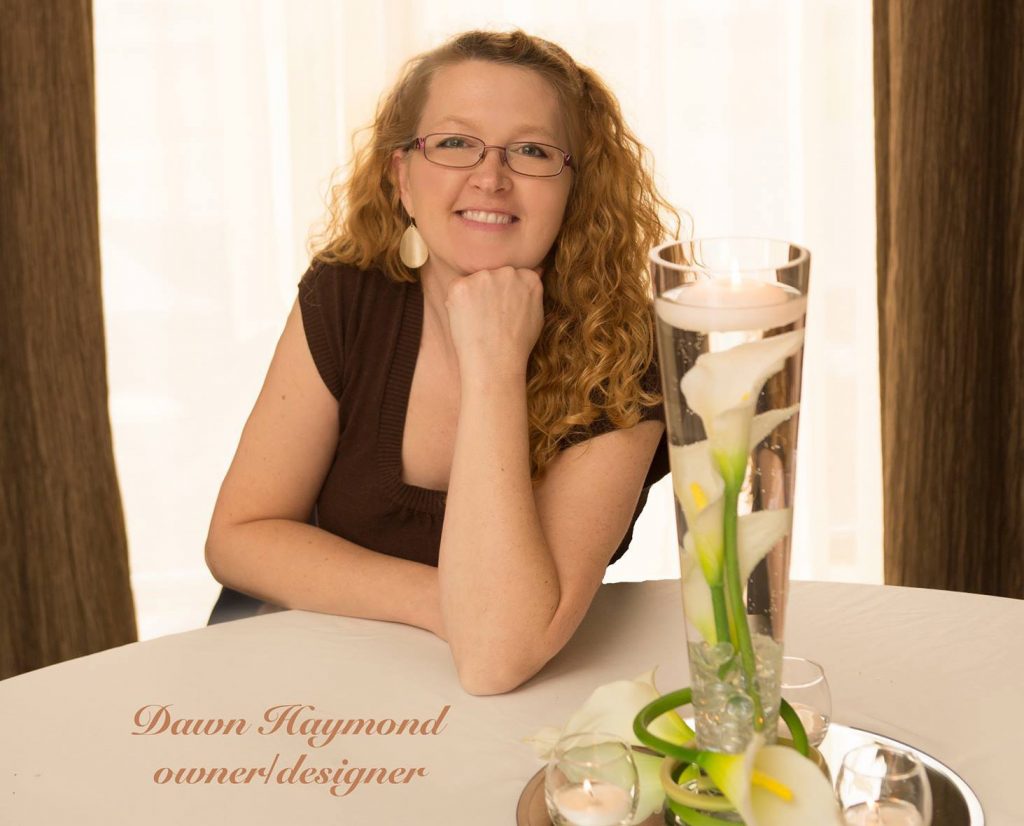 Meet Dawn Haymond owner of Haymond Centerpiece Rentals located in Wonder Lake, IL.  She provides a variety of beautiful centerpieces for brides to rent on their special day. For a fraction of the cost of doing it yourself, and not to mention the time to create your own centerpieces, Haymond Centerpiece Rentals will help you choose, deliver and setup the centerpieces at your venue. Let's find out more about Dawn and her centerpiece creations. Read on…
What gave you the inspiration to start Haymond Centerpiece Rentals?
……Well, I've been in the hospitality business in some shape or form since I was 16 years old. At 17 I was a banquet waitress and inspired by a Florist who did centerpiece set up for a wedding. She did a beautiful job and looked like she absolutely loved what she was doing. Being that I've had artistic abilities since the age of 5, a light bulb went off in that moment that I would love to do something like that! The idea of renting different designs came to me. Nothing came from my light bulb moment at that time in my life. Years later at the age of 43 having game night with my photographer friend Dana Brandt, who just happened to be getting started with a wedding network, loved my idea and felt I should move forward with it. With her encouraging words, and encouragement from my husband and other family and friends, this concept has spiraled into a wonderful business beyond what I ever thought possible!
What do you love most about weddings?
What I love most about weddings is seeing and being a part of the love between all of the wonderful couples. As a wedding vendor you get to experience the magic of this joyous occasion over and over again! I also love seeing the designs my couples choose come to life in their reception room. When I come back that same evening to do pick up the smiles and hugs I receive warm my heart above and beyond.
Which centerpiece design is your favorite and why?
My favorite centerpiece design would be my "Gladiola Love" cylinders. Why?…. I love the romantic ambiance from all the candles and purple is my favorite color!
What advice would you give couples about centerpieces for their wedding?
Advice to couples when choosing a design is to ask themselves what they are going for:
Glitzy
Rustic
Traditional
Simple
Or perhaps a theme.
Or if they are just looking to incorporate their wedding colors.
What are your favorite wedding trends right now?
My favorite trends for 2017 is the soft and subtle pastels as well as rich burgundy and golds.
How do you help couples choose centerpieces for their wedding?
How I help couples choose a design is just as I said above. What is the look they are going for. What they want family and friends to experience as a guest at the wedding.
Where do you find your inspiration to create new centerpieces?
Where inspiration comes from, for the majority of the designs, is honestly morning coffee! My head starts going a million miles an hour on different styles! I also get inspiration from my couples who ask if I can put something similar to what they may see on Pinterest.
Do you offer other items besides centerpieces?
I do offer other items such as cupcake stands, pillars, a trellis and card boxes. I'm always adding items that I feel would be a great affordable decorative item for their wedding day!
You can learn more about Dawn and view her gorgeous centerpieces by going to HaymondCenterpieces.com or visiting her Facebook Page @haymondcenterpiecerentals. If you are looking for more local wedding vendors like Dawn go to WoodstockWeddingNetwork.com