Our local wedding industry has so many talented artists and professionals ready to help you have the wedding you have always dreamed of. The Vendor Spotlight was created to introduce them to you, our brides and dear readers.
Please meet Amy Henning owner of Bella Bridal Hair and Makeup Artistry located in Woodstock, Illinois. Amy and her team of Bella Artists have been helping brides look and feel their best since 2008. At Bella Bridal they pride themselves in giving brides an experience they'll never forget. Find out where Amy finds her inspiration and how she helps brides find their "Look" for their special day. Read On!
What sparked your interest in the art of makeup?
I have always had a passion for art I just wasn't sure which direction that passion would take me in. When I was 13 my step mother took me to the make up counter for a make up lesson, and I fell in love with makeup. It wasn't until years later I realized that it would become my career.
How did bridal makeup become your niche?
In 2008 I was a recent cosmetology school graduate unhappily working two jobs trying to build my clientele. In September of that year I had A friend of a coworker that was getting married and looking for someone to provide hair or make up for her bridal party. I went and provided services and as I was leaving and walking to my car I had an epiphany that this is what I was meant to do. Getting to be surrounded by so much love and seeing the look on that brides face when she looked in the mirror gave me a rush that cannot be explained. That day Bella Bridal was born.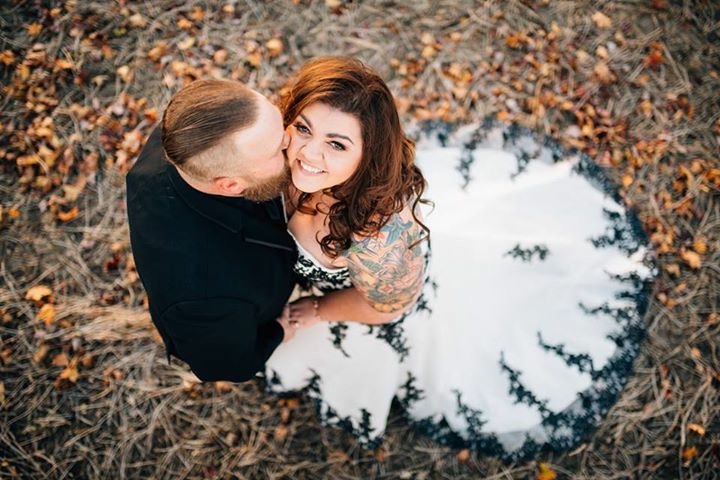 What is your favorite thing about working in the wedding industry and working so intimately with brides?
My favorite part about working in the wedding industry is the special relationships I get to build with my clients. This is one of the most important days of their life and they look to me for guidance both before, and on the day of their wedding. Getting to be one of the final people they have a conversation with, before they walk down the aisle, my duty is to make them feel comfortable and to even make them laugh from time to time. Getting to work with them so closely and intimately that day has allowed me to build many long-lasting friendships with clients. My other favorite part is getting to hear their stories. I love hearing their stories of how they met, how they fell in love, and how they got to where they are now. I have had the opportunity to hear some of the most heartwarming stories I've ever heard in my life.
How would you describe your makeup style?
I would describe my personal make up style as clean and glamorous. I love taking a clients best features and making them shine. Make up to me is not about covering everything up it is about letting whats inside shine through. Each make up artist is different and one positive thing about my company is that we are a team built of very different artists who all have different styles to suit each client.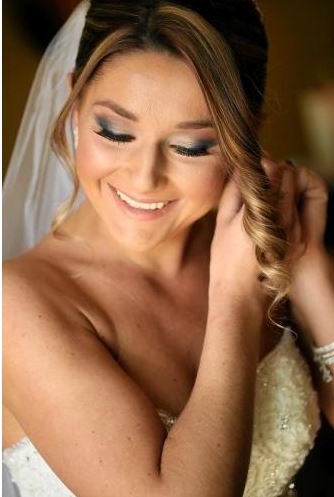 What are your favorite products to use?
This is a tough one, but a question I very often get asked. I don't believe there is one make up brand that has gotten every product perfect. I love the buttery feel of Lorac Eyeshadows. I'm obsessed with the photo finish look of make up forever's HD setting powder. One product that may be a surprise is I think "cheap" drugstore brand mascaras are the absolute best. We recently have developed a new cosmetics line Bella Bombshells Cosmetics. In coming up with this line we tried to take all of our favorite parts of our favorite products and bring them together making one cohesive quality line of cosmetics.
How do you help your brides decide upon the "look" for their big day?
During our bridal previews we take a lot into consideration when deciding a look. We talk about the overall style of their wedding, their every day personal style, what their wedding dress looks like, what they want to feel like on our wedding day, and finally what they want their groom to be thinking as they walk down the aisle. With that question we have gotten some pretty hilarious, but very helpful responses. We take all of that and combine it all together to create the perfect customized look.
Where do you find your inspiration?
I find inspiration in literally almost anything. Artistically I find inspiration in colors and patterns. I have a creative mind and something as simple as a crumpled up piece of paper can give me inspiration for a new shape or texture. I find a lot of my inspiration in nature. If you take a moment to stop and look at your surroundings you would be amazed at how many new colors and shapes you see that you never knew existed. I use everything I see it as fuel to drive me forward.
What's the best piece of advice would you give brides about their wedding makeup?
My best piece of advice I can give to brides about their wedding day make up is to be themselves. They should be comfortable with their look, and feel as confident as possible. The worst thing a bride could do is choose a look that is not her. You wouldn't want to look back at photos 20 years later and not recognize the woman in the photo. In the world of fashion, and Pinterest, there are so many options to choose from and we tend to look beyond the make up itself and look at the person instead forgetting that we ourselves are unique and beautiful. So my best advice is to be yourself 100%.
You can learn more about Amy and Bella Bridal and Makeup Artistry by visiting their website BellaBridalHairandMakeup.com or find them on Facebook @Bellabridalhairandmakeup. You can also go to The Wedding Network to find more talented local wedding professionals like Amy and her team.