Hire a professional DJ and MC that will make your celebration unforgettable
You have chosen the perfect venue, selected the top cater to prepare the meal, picked out the most beautiful flowers and have invited all of your family and closest friends to celebrate the happiest day of your life. Then soon after the meal your guests begin to say goodbye and your day will fade from their memory.

You hired a good DJ who included uplights and a photo booth, but it wasn't enough to make your day unforgettable and keep your guests from leaving early.

With Markee Weddings we work with you to create a Fun and Meaningful celebration that your guests will rave about for years to come.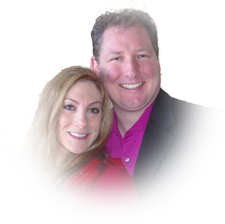 "As a recently married couple we understand how confusing and overwhelming it is to plan a wedding celebration. After our own wedding we realized that weddings didn't need to be cookie cutter and boring, that's why we started Markee Weddings in 2015 to help couples create a fun, unique and unforgettable experience for the most important day in your life"

Adam and Heather Garrison
Owner's & Professional Wedding Hosts
Chicago, Illinois
"We laughed, we cried, and we had the time of our lives. "

— Vic
"They made everything so easy for me. I couldn't have had a better DJ"

— Jennifer
"Not only did we feel they did an amazing job, our friends and family did as well!"

— Ashley
Creating a fun and meaningful celebration doesn't need to be confusing our process makes it easy.
This 60 minute visit with us takes away the confusion out of hiring a DJ. At the very least you will walk away with an idea or two to use at your celebration.
Creative Planning Sessions
We are not like other DJ companies who have you fill out a form online and then review it. We like to get to know our couples' individual personalities and explore ideas that will allow us to deliver a unique and meaningful experience.
After all the planning we put together an itinerary of events and a customized script that will flow smoothly and invite your guests to be active participants.
It's time for you and your fiance to enjoy the party and be a part of the experience your guests will always treasure.
Schedule A Consultation Now
CONTACT US TODAY!
Call or Text us to schedule a complimentary initial consultation


815-703-4530